"Estuarial sounds, flowing currents and ebbing tides. Frizzante!" All about jazz
"Hats off for an absolutely wonderful album." LIRA#2 2013

Swedish Gothenburg-based musicians Martina and Owe Almgren (Oh Yeah Orchestra, Martina Almgren Quartet) form a colourful trio together with British/Bengali pianist Zoe Rahman (winner of the MOBO Jazz Award 2012). Their music is an airy, ethereal type of jazz with a strong lyrical feel to it.
Zoe Rahman is one of the brightest stars on the contemporary British jazz scene. A vibrant and highly individual pianist and composer, her style is deeply rooted in
 jazz yet it reflects her classical background, British/Bengali heritage and her very broad musical taste.
Owe Almgren is a colourful, imaginative electric bassist. He features in the big band BarT with Jim Beard, and can be heard solo on his album "Basically Low Key".
Martina Almgren is a sensitive and communicative drummer and composer and is involved in international projects, such as the Scottish/Swedish Oh Yeah Project with saxophone player Laura Macdonald. After albums with the Martina Almgren Quartet, she was commissioned to write the suite "Freedom of Movement" for Swedish Jazz Celebration in 2009 for the ten-piece group Oh Yeah Orchestra.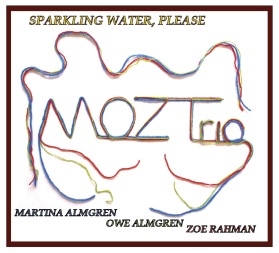 OYR001 Release 3 April 2013
Zoe Rahman (UK) - piano
Owe Almgren (Swe) - electric bass
Martina Almgren (Swe) - drums

1. Sparkling Water, Please (M. A)
2. Bäck (Owe Almgren)
3. Crystal Clear (Zoe Rahman)
4. On The Road (Zoe Rahman)
5. Vaggvisa (Owe Almgren)
6. For A Change (Martina Almgren)
7. Höst (Owe Almgren)
8. April Sun (Zoe Rahman)
9. Red Squirrel (Zoe Rahman)
10. Love Is Still In The Air (M. A)
11. Vintergäck (Martina Almgren)
Debut album from the British pianist Zoe Rahman together with Swedish bass player Owe Almgren and drummer Martina Almgren. "Sparkling Water, Please" was recorded and mixed at State of the Ark studios, London in November 2012 together with sound engineer Åke Linton. Mastering by Claes Persson in Stockholm.
Produced by Martina & Owe Almgren OH YEAH RECORDS 2013
www.ohyeahrecords.com