RHYTHM AND BEAT HAVE ALWAYS FASCINATED ME
Surrounded by music as a child I started to play the piano soon followed by the flute. In my late teens I was caught entirely by the drums and the freedom of improvisation. Some years later I started to compose.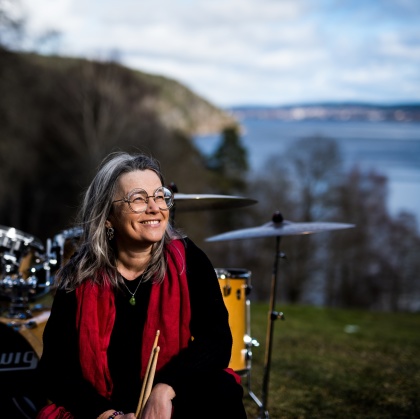 Martina was born 1962 in Jönköping, Sweden, in an artistic home surrounded by music and hand crafts. At the age of nine she started to take piano lessons and when she was 13 she added studies in flute and singing in a choir.
She moved to Göteborg in 1982 to study classical flute at the Academy of Music and Drama. The attraction to rhythmical music grew and encouraged by a teacher she switched focus into jazz, improvisation and drumming.
She graduated from the Academy in 1988 (flute and drums) and in 1996 (studies in jazz and composition.)

Martina Almgren entered the Swedish jazz scene in the late 90s and has since then also been involved in several international collaborations. Acting as a band/co-leader for Martina & Owe Almgren Quartet (former Martina Almgren Quartet), Oh Yeah Orchestra, Martina Almgren & Laura Macdonald and MOZ Trio (with British pianist Zoe Rahman), she has released a numerous of albums and composed on commission for the Swedish Jazz Radio and contemporary ensembles. Her current projects includes Martina Almgren THIS SONG OF MINE (lyrics y Rabindranath Tagore), Martina Almgren MAJESTIC and DUALITY (duo with Owe Almgren).

Martina runs together with Owe, Malin and Karolina Almgren the label Oh Yeah Records and is a lecturer in improvisation at the Academy of Music and Drama in Göteborg.